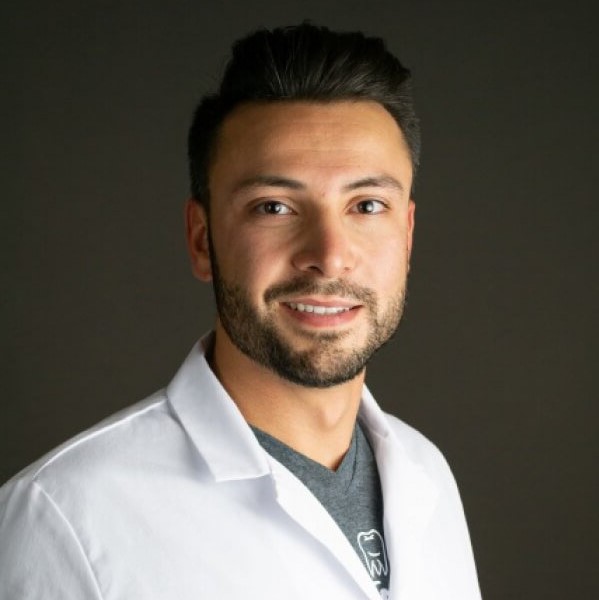 Mouth Matters for
Brain Health
Dr. Uzi Kamal
with Jane Rogers
How you can optimize your breathing during sleep for cognitive health. Untreated apnea is an often-overlooked factor in cognitive decline.
Or if you only have 3 minutes...
What you'll learn in this podcast....
Every organ in our body requires oxygen. Sleep apnea is a disruption in our normal air exchange during sleep. It's a nocturnal disease, but it affects our daytime as well as our nighttime health. If you have even mild sleep apnea, it's important to treat it in order to optimize your nocturnal oxygenation. Otherwise, you're going to be losing brain cells. 
Sleep disorders, like apnea, are one of the major factors in cognitive decline. The majority of people who suffer from it, however, don't realize they have it. Usually, it's a partner who notices the problem. But a dentist who has special training in this area is also ideally positioned to recognize some of the symptoms and signs of possible sleep apnea. They see their patients quite regularly and they examine the airway, tongue, oral and skeletal features that may be indicators of potential sleep apnea that a patient might not be aware of. 
It is important to understand that a dentist cannot make a formal diagnosis. Only a sleep physician can do that. However, a dentist can offer different treatment options. A CPAP machine (Continuous Positive Airway Pressure) is the most common, but not necessarily the only option. There are multiple ways to treat sleep apnea including surgical and non-surgical approaches. A trained dentist can formulate a personalized dental appliance that might work as effectively as the more cumbersome CPAP machine.
"There is a link to untreated sleep apnea with depression, anxiety and definitely cognitive decline. In fact, a lot of the symptoms from sleep apnea are reversible once treated, but there are some things that are not reversible and cognitive health is one of those."
Before making North Carolina his permanent home, Dr. Usama "Uzi" Kamal grew up in London, Ontario. He received two Bachelor of Science undergraduate degrees at Western University in Canada, double majoring with honors in medical science and biology in 2012. During his last year in college, Dr. Kamal was commissioned into the Royal Canadian Navy and proudly served the Canadian Armed Forces as a Maritime Surface and Subsurface Officer. He was also a Sub-lieutenant for six years – four of which were served while he attended dental school. He was indelibly recognized at the national level for his extensive naval vessel training, in addition to his strong leadership and navigation skills by the Department of National Defense. In 2018, he decided to depart from the Navy to fully immerse himself in completing his Doctor of Dental Surgery degree at the Indiana University School of Dentistry in Indianapolis. Today, Dr. Kamal still gives credit to the Navy for his foundation of discipline, work ethic, and dedication while he served, and he now applies those same qualities when serving patients in his community. Dr. Kamal had worked for several dental offices in Arkansas before bringing his professional skills to Black Bear Dental. He treated patients in Blytheville, Fort Smith, Jonesboro, Paragould, and West Memphis as a general dentist, in addition to working at a pediatric office treating children and disabled patients in both hospital and private practice settings. Dr. Kamal also travels around the world to follow his passion of helping others and recently traveled to Lebanon to help treat refugees in need of urgent dental care. He plans on continuing to fulfill his passion both personally and professionally through future mission trips in Honduras and Jordan. Due to Dr. Kamal's enthusiasm in committing himself to improving the lives of his patients and to a lifetime of learning, he has taken numerous opportunities to increase his understanding of medicine and surgery as it relates to dentistry. He is certified in Safe Mercury Amalgam Removal Technique (SMART) through the International Academy of Oral Medicine and Toxicology, as he takes pride in seeking the most natural and holistic alternatives to treatment. Dr. Kamal believes in the safest and healthiest biological approaches to dental care and always thrives on gaining more knowledge in the world of holistic medicine and dentistry. He holds memberships in the American Dental Association, the International Academy of Oral Medicine and Toxicology, North Carolina Dental Association, American Academy of Facial Esthetics, and the American Academy of Dental Sleep Medicine. Currently, he is in the process of receiving his status of Diplomate of the American Academy of Dental Sleep Medicine. He is also immersed in the Progressive Orthodontic Seminars curriculum, as well as the McCracken Implant Education course – both of which are known in the dental community to be well-renowned postgraduate training programs. Outside of the office, Dr. Kamal can be found training at the gym, playing soccer, traveling domestically and internationally, and watching the Toronto Maple Leafs play hockey. He studied multiple languages, including French and Spanish, and is fluent in English and Arabic. Among all his outside interests, he most enjoys traveling and hiking the Blue Ridge Mountains with his beloved Samoyed, Jon Snow.
Partners
Links & Resources
Connect
Transcript
Partners
Links & Resources
Connect
Transcript